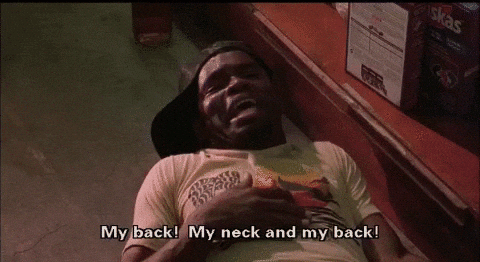 I swear I am cursed with the worst back on the planet.  I actually haven't had back issues for a very long time.  But after today, I may have to relax it for a while again.  And it is probably because my form sucks doing these exercises or something.  I do wear a belt, I do my best to keep my back straight, but it can be tough.  I did stretch my back after I finished and used a foam roller and it felt pretty good, so maybe I will luck out.
Below are my exercises and volumes for my lifting today (which was squats and deadlifts in a 5×5 format):
| | | | | | |
| --- | --- | --- | --- | --- | --- |
| Squats | 5 x 260 | 5 x 275 | 5 x 300 | 5 x 320 | 5 x 330 |
| Deadlifts | 5 x 225 | 5 x 255 | 5 x 285 | 5 x 320 | 5 x 350 |
I may have to deload on squats already as the last 5 were pretty tough.  Though to be fair, I alternate between doing squats first and deadlifts first so that I can have more energy for each on alternating weeks.  We'll see if I can do a bit more next week when beginning with squats and I can decide after that if I need to deload.
As of this evening, things are feeling better in my back.  My body is a bit sore from the workout as a whole but that is to be expected.  Tomorrow is going to be tough but it I will be focusing on biceps/triceps so hopefully I won't be too sore from the first two workouts this week.
Things have been going well otherwise.  Food has been good the first two days this week but I have a lunch meeting at work tomorrow as well as one on Friday so I'll have to do what I can to make up for all those calories.
Skip dessert?
"Great things are not done by impulse, but by a series of small things brought together." ~Vincent Van Gogh